PIZZA WITH A PURPOSE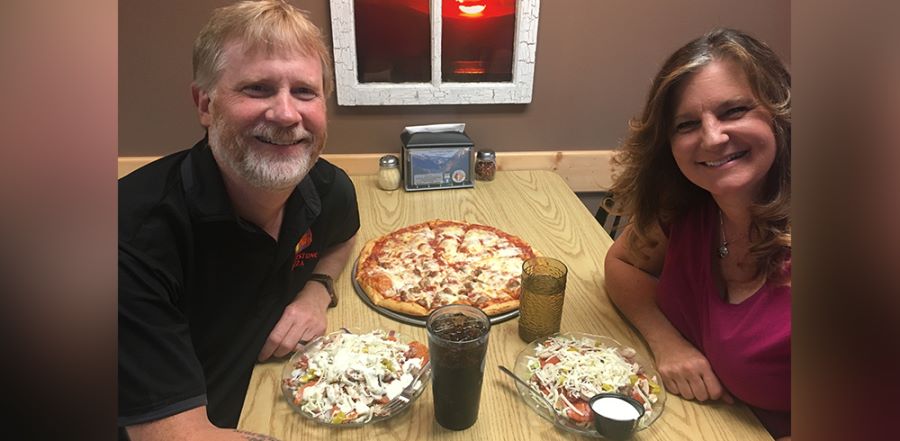 DON'T MISS ANY STORIES. FOLLOW AG NEWS!
Pastor Lynn M. Lapka will never forget the February day he stood staring out the window at a fierce Montana blizzard and prayed.
He admitted that the Assemblies of God church he pastored, Cornerstone Faith Center, didn't have a strong influence in St. Ignatius, a town of 800 on the Flathead Indian Reservation. Lapka told the Lord the church needed to be redefined, but he didn't have a clue how to do it.
In that moment, God seemed to respond with an outlandish reply: reopen the pizza shop on Blaine Street.
Lapka began to mull the possibilities. He eventually went to the Cornerstone church board with the notion of "pizza with a purpose." Goals would include creating a clean, comfortable environment for the community; providing needed jobs, especially for teenagers; and giving back to the community by returning all profits to the local school and other entities, as well as doing public fundraisers for worthy projects.
"As I talked, naturally the church leaders' faces had that deer-in-the-headlights look," Lapka says. "I didn't push them; I just suggested that we all go away and pray about it."
At the next meeting, the others agreed to give the venture a shot. The pastor then approached the building's owners, whom he already knew. They agreed to a modest rental price. Remodeling soon began.
"I had no experience making pizza!" Lapka says. "But I knew the taste I was looking for. There was a lot of trial and error."
Cornerstone Pizza, with all fresh ingredients, has been open since 2011, becoming a hub of community life. Located only a block and a half from the local school, the business offers a lunch special for kids.
The proceeds have helped build a new playground at the elementary school, as well as stock a supply closet for teachers who already used up their annual budget.
"You wouldn't believe how many glue sticks a class of first graders can go through in a year!" says Principal Tyler Arlint. "Our teachers are so glad they don't have to keep buying things like this out of their pocket; they just email their wishes to Cornerstone, and the supplies quickly show up in the closet. This has opened up a lot of warm feelings among our teachers, to have somebody just give to their work with no strings attached."
A recurring fundraiser at the pizza shop is the week when 25 percent of all sales go to the eighth graders' annual "Tour of Montana" — a 900-mile loop around the state, visiting historic sites, landmarks, and national parks.
"We have the kids come in and work that week, assembling pizza boxes, washing dishes, making runs with carry-out orders," Lapka says. "The whole town seems to show up or call in to help them."
That's just one way Cornerstone Pizza has become a bridge from the church to the community. Some locals with no church background know the eatery's church connection, and ask for prayer. Visitors impressed by the restaurant have shown up for Sunday morning worship services at the church, where Lapka's wife, Holly, also is on staff.
"They do so many things among so many people and groups," Arlint says about the church. "They get a lot of involvement from a lot of different stakeholders. It's truly a great unifying factor for the community."
Now a new project is now taking shape in St. Ignatius: the resurrection of a motel and sit-down coffee shop that had been on the market for five years.
"We raised funds and bought it debt-free to become another meeting place for our community," Lapka says. "We're busy doing a major facelift right now." The renovated property will be called Cornerstone Crossing.
Once a resident manager is hired, some of the rooms will be rented to the general public, such as tourists heading north to Glacier National Park or another national forest. But other rooms will be set aside as emergency short-term housing for those who find themselves in a bad situation.
"It won't be a 'homeless shelter,' but just a place where we can put people into a safe place and connect them with the right resources for getting back on their feet," says Lapka, 48. "We'll have an organized process for determining who can stay there."
Through the experiences of the past seven years, Lapka believes Cornerstone is now in the loop. He says the church is able to respond to community needs because it is in the thick of things.