TOP STORIES OF 2018
by  AG NEWS STAFF on December 25, 2018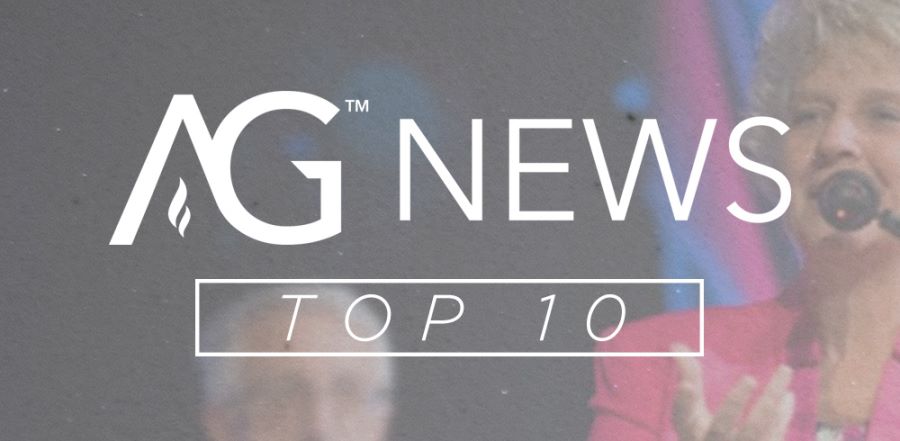 Here are the 10 most popular stories of 2018:
10. Hundreds Filled with the Spirit on Pentecost Sunday
Three church campuses see more than 700 baptized in the Holy Spirit on Pentecost Sunday.
9. AG Church Destroyed by Fire
Fair Oaks Assembly of God in McCrory, Arkansas, was destroyed in a fast-moving fire.
8. Fastest-Growing Church
This Tennessee church is the fastest-growing church in the United States. Pastor Mike Burnette says he would rather the congregation be known for something else.
7. Burning to Death from the Inside Out
Doctors offered little hope for 8-year-old Phoenix, but God had other plans for her.
6. This Week in AG History — May 12, 1968
Colonel Sanders of Kentucky Fried Chicken found Christ in an Assemblies of God church and shared his story with the Revivaltime radio broadcast.
5. A Church Outgrows its Town
A church of 80 in a small town of 1,160 quickly ballooned to 1,400 in attendance.
4. Parkinson's Was Taking His Ministry and His Life . . . But then, God
A pastor is suddenly healed of Parkinson's disease when a 72-year-old visitor, led by the Spirit through a dream, shows up at his church to pray for him.
3. Obedience Leads to Healing
Richard Daddona was healed of ALS after he was led by the Spirit to be baptized.
2. Donna Barrett Elected General Secretary
Donna L. Barrett was appointed by the Executive Presbytery to serve as general secretary, making her the first woman to serve on the AG Executive Leadership Team.
1. Pastor Faces Gunman
An AG pastor faces a gunman a mere 25 minutes before students start arriving. A simple message from the Holy Spirit changed the situation.